"What does it mean – 'the files lead to the trolls factory'? It's a bunch of words," said Malkevich, who is accused of orchestrating election interference campaigns in Africa.
Alexander Malkevich (source)
In recent months, reports have emerged of a new Kremlin-backed strategy to influence African elections.
In April, BBC News reported that dozens of Russian nationals masquerading as "tourists" and election "observers" had been spotted in Madagascar. Later that same month, CNN reported on an "insidious" Russian strategy to quell anti-government protests in Sudan. Then in July, Bloomberg reported that authorities in Libya had arrested two men for allegedly carrying out a plot to install Saif al-Islam Gaddafi, the son of the toppled dictator.
All three stories identified Russian catering oligarch Yevgeny Prigozhin aka "Putin's cook" as the man pulling the strings. But there's another notable Kremlin-linked figure whose seeming involvement has largely gone unreported.
Readers of this blog will remember Alexander Malkevich as the former editor of Russian propaganda website USA Really, but "whose fumbling misadventures in American media have," according to the New York Times, "made him seem more like a Sacha Baron Cohen character than a sinister propagandist."
Malkevich exited USA Really in February shortly after the U.S. Treasury Department sanctioned him for "attempted election interference." Since then, he's been chairing the Foundation for the Protection of National Values (FPNV), a self-described "small non-government organisation" that conducts sociological research in various countries to sell to "businessmen and for other people who are in need of them."
FPNV recently made headlines after Malkevich announced the company was raising money to pay convicted Russian agent Maria Butina's legal bills.
Maria Butina (source)
On FPNV's site, Malkevich boasts that the two men detained in Libya — Russian political strategist Maxim Shugaley and his interpreter, Samer Hassan Seifan — currently work for FPNV. According to Bloomberg, information gleaned from laptops and memory sticks have further identified the two men as working for the infamous Internet Research Agency (IRA), better known as the Russian troll factory.
Reached by e-mail, Malkevich confirmed that Shugaley and Seifan currently work for FPNV, but dismissed all other charges as a meaningless "bunch of words," insisting that the men were merely conducting "routine field research."
"What does it mean – 'the files lead to the trolls factory'? it's a bunch of words," Malkevich told Shooting the Messenger. "They had nothing criminal. Abstracts, transcripts of conversations, photos, videos and other multimedia files, on the basis of which our research was made. And the part of it is already absolutely openly published on our site!"
It's not the first time Malkevich has admitted to employing alleged members of Prigozhin's infamous troll factory.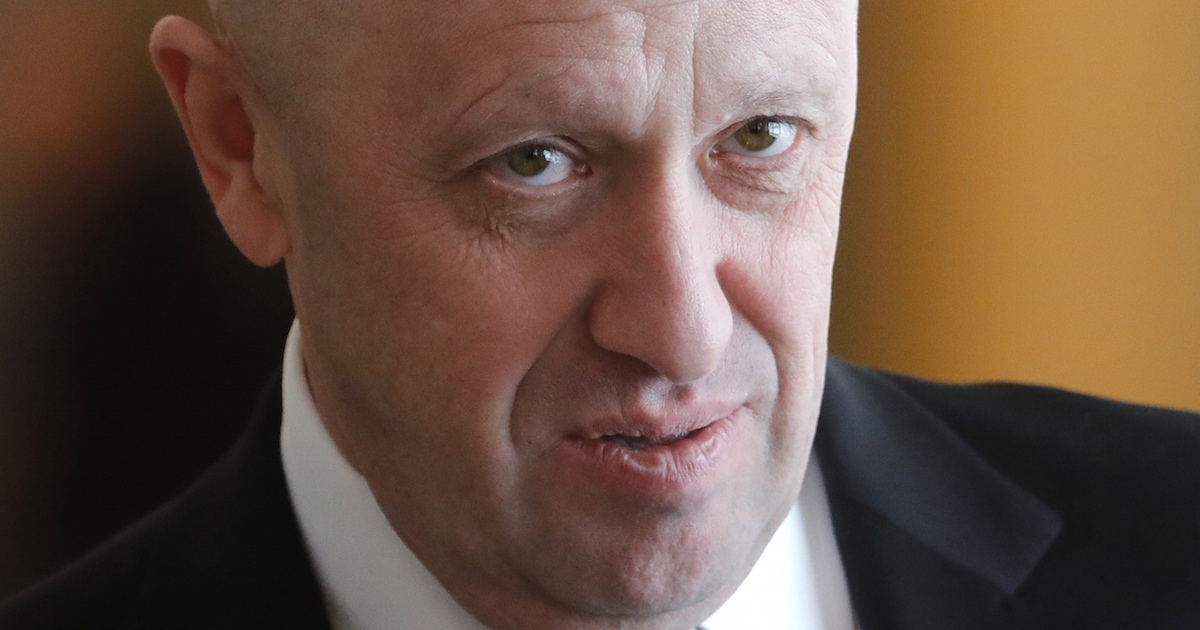 Yevgeny Prigozhin (source)
In April, CNN reported on an "insidious strategy" to quell protests against Sudan's dictatorial former president Omar al-Bashir late last year. The strategy — allegedly orchestrated by St. Petersburg mining company M-Invest with support from a military construction firm co-owned by Prigozhin — involved "spreading misinformation on social media, blaming Israel for fomenting the unrest, and even carrying out public executions to make an example of 'looters,'" according to CNN's sources.
Documents obtained by the London-based Dossier Center show that M-Invest's presence in Sudan was facilitated by Mikhail Potepkin, a St. Petersburg press agent and, allegedly, a prominent member of Prigozhin's troll factory.
Shortly after CNN's report — which made no mention of Malkevich or FPNV — Malkevich published a statement on FPNV's site in which he freely admitted that Potepkin and his colleague, Russian political strategist Petr Bychkov, traveled to Sudan on behalf of the company last year to carry out sociological research, advise al-Bashir's government on ways to "[avoid] mass casualties among the civilian population," and ensure "the bloodless transfer of power" in the country.
In an e-mail, Malkevich retracted his previous claim that Potepkin and Bychkov secretly worked for FPNV in 2018, but confirmed that the two men do currently work as consultants to its research in Africa.
"Several people in Africa worked as researchers for many months before the appearance of our foundation," Malkevich explained in an audio recording. "In spring, it was easy and it was useful for me and for us to establish some working relationship, working negotiations with them because they do have special and deep experience in this field."
Malkevich added that he "[knows] nothing about side projects of Petr and Mikhail" and denied having any connection to Prigozhin.
Mikhail Potepkin (source)
Online information about Potepkin is scarce, although his Facebook page states that he works as a press officer at the Russian state-owned "Fuel and Energy Complex of Saint-Petersburg." He's also identified in several news articles as a member of the Nashi movement, a Russian anti-fascist group.
Potepkin's name also pops up in connection with another company co-owned by data analyst Anna Bogacheva, who along with Prigozhin was one of 13 Russian nationals indicted last year in connection with IRA interference efforts.
Malkevich denied having any knowledge of Bogacheva.
Petr Bychkov (source)
Bychkov is perhaps best known in the west for his attempts to meddle in South Africa's general election earlier this year. According to South African newspaper the Daily Maverick, Bychkov, in coordination with yet another Prigozhin-linked NGO based in Russia, secretly campaigned to re-elect the ruling African National Congress party (ANC) by spreading disinformation about ANC's political opponents.
The Daily Maverick's exclusive does not mention Malkevich or FPNV, and Malkevich has not yet publicly addressed the article. Meanwhile, FPNV continues to publish research on its site while appearing to implicate itself in news stories about Russian interference in Africa.
You can listen to Malkevich's full statement via the Soundcloud link below.