The first in a three-part series charting the rise of the Meta-Medicine movement
If you're interested in the often murky world of complementary and alternative medicine (CAM), chances are you've heard of the International Meta-Medicine Association (IMMA).
Founded in 2004 by Johannes Fisslinger—inventor of the "Aura Video Station"—IMMA (via its online university, Meta-Health University) claims to have trained over 1,000 practitioners in "the art and science of self-healing," an elaborate philosophy of preventive health focused on diagnosing the root causes of disease.
The university's faculty list reads like a who's who of the contemporary CAM scene, counting among its guest speakers pediatric surgeon Dr. Bernie Siegel, celebrity nutrition expert Dr. David Katz, and biologist Bruce Lipton.
Via its non-profit research charity, the Heal Breast Cancer Foundation (HBCF), IMMA has attracted Hollywood actors like Ben Stiller and Geena Davis, and garnered high-profile endorsements from Dr. Dean Ornish and self-help guru Eckhart Tolle.
But despite its penchant for attracting big names, little is known about the lurid origins of this self-proclaimed "revolutionary new healing paradigm."
The central tenet of IMMA's philosophy of preventive health is that the body is capable of healing itself naturally. The claims are based on the discredited theories of Ryke Geerd Hamer, a German doctor who lost his licence in 1986 as a result of extreme misconduct.
IMMA posits the onset of disease as occurring when a person suffers sudden or prolonged emotional trauma; to "self-heal," they must overcome this trauma.
To understand Hamer's theories, or by extension those of IMMA, you have to start with the story of Hamer's son, Dirk.
— Dirk Hamer and the catalyst for the "Germanic New Medicine"
In August 1978, while napping on the deck of a yacht in the Mediterranean near Corsica, Dirk Hamer was shot by the last crown prince of Italy, Vittorio Emanuele of Savoy. Dirk died four months later.
According to his official online biography, a short time after Dirk's death, Dr. Hamer discovered he had testicular cancer. At around the same time, Dr. Hamer's wife, Sigrid Oldenburg, discovered she had breast cancer.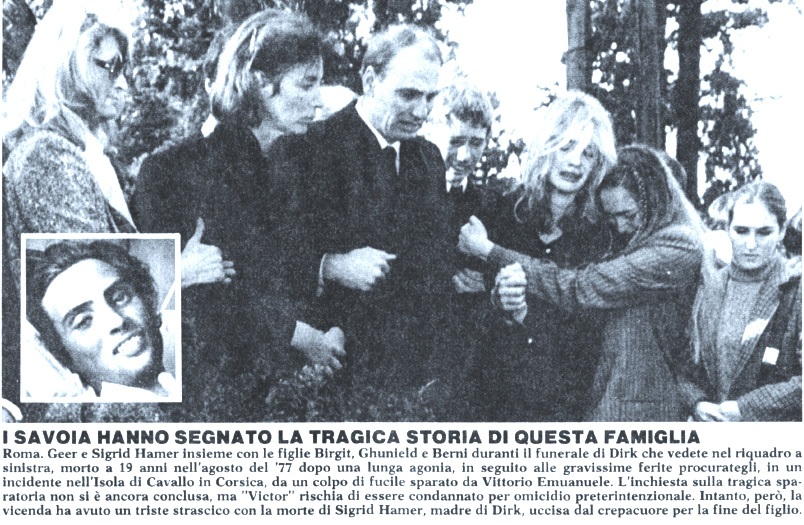 Dr. Ryke Geerd Hamer at his son's funeral, 1978 (source)
Hamer attributed the onset of his and his wife's cancer to the emotional trauma they had experienced as a result of Dirk's death. He theorised that the most effective course of treatment would be to bypass conventional treatments and instead undergo a form of "natural therapy" to resolve the underlying trauma.¹
The theories Hamer developed during this period formed the basis for what would become the "Germanic New Medicine" (GNM), a speculative model of disease exploring the "interconnections and relationships" between "the psyche, the brain and the organ."
According to one particularly fantastic claim, specific emotions are said to affect specific organs and bodily functions.
For example, a child who is forced to live under the conservative – or "inflexible" – rule of an overbearing parent might develop rigid joints. A recently-divorced woman might, in the absence of intimate physical touch, develop a skin condition. And so on.
Decades later, Johannes Fisslinger would integrate Hamer's claim into IMMA's trademark theory, the "organ-mind-brain connection."
The "two phases" of disease, according to Dr. Hamer (source)
In 1981, Hamer submitted his postdoctoral thesis on the psychological roots of disease to the University of Tübingen with the objective of convincing the university to test his hypothesis on patients. The university rejected his thesis, citing flaws in the form and methodology.
Having failed to establish himself in academia, Hamer then tried to find evidence for the link between unresolved trauma and the onset of cancer and other diseases.
In 1982, he opened a private cancer clinic near Freiburg, Germany, where he began putting his theories into practice. 
Surviving accounts of his clinic, Sanatorium Rosenhof, paint an unremittingly bleak picture. To paraphrase a translated 1983 report featured in the German news magazine Stern:*
Around the dinner table sit Hamer's patients, their bodies emaciated and swollen, their faces yellow from jaundice. They are deathly ill. Instead of receiving the proper medical treatment, they only sing and eat – for this is the course of treatment Hamer has prescribed, and they have faith that it will heal them.
Not surprisingly, this course of treatment was not effective, and of the 50 patients who were treated by Hamer at Sanatorium Rosenhof, only seven are thought to have survived.
Following the closure of Sanatorium Rosenhof by German authorities, Hamer opened an illegal clinic near Bremen, Haus Dammersmoor. Reports of patients dying again caught the attention of authorities, and Dammersmoor was forced to close.
In 1985, Hamer moved to the town of Katzenelnbogen, where he opened yet another illegal clinic, Amici di Dirk, which in German is "Freunde von Dirk," meaning "Friends of Dirk," after his late son.
The conditions inside Amici di Dirk – his third clinic in just over two years – were horrific. The clinic lacked staff, money, and basic medical supplies. Hamer was allegedly absent for days at a time, leaving patients alone without any medical assistance.
The following excerpts from interviews arranged by German journalist Aribert Deckers and carried out by University of Tübingen student journalist Silke Bauer with some of Hamer's former employees, provide a chilling account of conditions inside Amici di Dirk.*
"I would describe my time with Dr. Hamer as a very chaotic and exhausting period. Chaotic because he had no money, because some days he lacked the money to feed our patients. It was hard to work there. He could not administer therapy because sometimes there were no drugs available to relieve suffering."

– Mrs. M, former accountant at Amici di Dirk
"There was a young lady with us, a patient with cancer. She was accompanied by her brother. And one morning Dr. Hamer started his car and did not tell us where he was going or when he would return, and did not leave even a phone number, nothing.

"The brother came to me and told me his sister was in severe pain, and wondered where Dr. Hamer was. I told him: 'I cannot reach Dr. Hamer, he did not tell us where he was going.' The brother returned two or three times, saying: 'My sister screams in pain!' And I said: 'I'll call another doctor, it can't go on like this.'"

– Mrs. Gemmer, former accountant at Amici di Dirk
"Dr. Hamer was particularly interested in one young patient. I think he had bone cancer and was in terrible pain. For days he banged his head against the wall, into the night. I said to Hamer: 'Doctor, we have to give something against the pain, this is not normal.' Hamer said: 'For God's sake, no! We cannot give an analgesic, this would change the blood values, the effect of healing would be compromised.'"

[Speaking about a female cancer patient who had been admitted into Hamer's care] "I lifted the blanket on the bed and I could see that she had a big hole like a blow on the thigh, and you could see the bone. And there was no treatment."

– Mrs. F, former nurse at Amici di Dirk
After Amici di Dirk was closed in 1985, German state authorities had had enough and revoked Hamer's licence to practice medicine.
Since then, Hamer has been convicted and imprisoned for medical crimes in several European countries, and reportedly there's a warrant for his arrest in Austria regarding a high-profile 1995 case in which he attempted to illegally treat six-year-old cancer patient Olivia Pilhar.
Olivia Pilhar with Ryke Hamer (source)
Meanwhile, medical authorities have widely denounced the former physician's theories and practices.
In 1989, the Koblenz district court ruled that Hamer did not possess the mental capacity to grasp the ethical ramifications of treating patients using an unproven therapy.
In 2001, a Swiss study found "no evidence" to support Hamer's "New Medicine," which it called "dangerous, especially as it lulls the patients into a false sense of security so that they are deprived of other effective treatments."
In 2004, The German Cancer Society offered its "expert opinion": Hamer's hypothesis lacked "any scientific or empirical justification."
The final nail in the coffin came from Dr. Michael Reusch, president of the German Medical Association, who in a 2006 interview called it "a tragedy" that vulnerable cancer patients had been taken in by Hamer's "charlatanism."
Dr. Hamer in 2009 (source)
Despite these setbacks, Hamer continued to put his theories into practice,² amassing a criminal record that rivals Nazi scientist Gerhard Wagner. As it happens, Hamer – like Wagner – is a virulent anti-Semite.³
According to GNM proponent Ilsedora Laker, the 81-year-old Hamer now lives in Norway, where he continues to promote his discredited theories.
¹In a 1999 Radio Toronto interview, Hamer said he underwent surgery for testicular cancer at Tübingen University Hospital. While it remains unclear if his wife underwent similar surgery for breast cancer, Hamer reportedly said her death in 1985 was caused by her scepticism about the efficacy of treating disease using the methods prescribed by his "New Medicine."
²With few exceptions, Hamer has been ignored by mainstream media, but German journalist Aribert Deckers states that the number of Hamer's victims is in the hundreds.
³In a 2009 interview, Hamer claimed that vaccines are a Jewish conspiracy to implant genocidal "death chips" into the bodies of non-Jews.
*For continuity, English translations of interviews and news reports have been edited and condensed.
Update, 30/06/2016: This article originally stated that German journalist Aribert Deckers had estimated the number of Hamer's victims "at around 150." In fact, Deckers says he stopped counting in 2008, and that he believes the true number is in the hundreds.
This article has also been updated to properly reflect Deckers' part in arranging the 2008 interviews conducted by University of Tübingen student journalist Silke Bauer with some of Hamer's former employees. Transcripts can be accessed via Deckers' comprehensive website on Hamer, deathsect.com.