The article appears to be the first in a regular column published by the Foundation for the Protection of National Values, an obscure Russian think tank run by sanctioned Kremlin mass media policy adviser Alexander Malkevich
Maria Butina is teaming up with a Russian think tank whose founder allegedly has close ties to the Kremlin's infamous disinformation apparatus.
In collaboration with the Foundation for the Protection of National Values (FPNV), Butina has penned an article titled "Oh please, make me a tool of American propaganda!" lambasting the American press and judicial system. The article, which claims to mark the beginning of a broader collaboration, comes just a few weeks after Butina was released from the Tallahassee Federal Correction Institution, where she served a 15-month sentence for acting as an unregistered agent of the Kremlin.
Recounting an interview she gave 60 Minutes while still in prison, Butina described her sentence as "a shameful deal for the US prosecutor's office, with an investigation in which they had to recognize my legitimate status as a student, apologize for sexist charges and, in order not to hit the dirt in the face and justify the money spent by American taxpayers on me, appoint me a prison term ?!"
Maria Butina (source)
The most scathing comments, however, were saved for interviewer Lesley Stahl, whose "little dry American face," Butina wrote, "doubled in the grimace of surprise and clear misunderstanding of my words."
On returning to Russia, Butina claimed she "was barely alive from lack of sleep and stress," but nevertheless "remained true to my promise to the women who sat with me, still imprisoned in the mortal arms of the American penitentiary system … not to be silent about all violations of their rights…"
Butina went on to thank FPNV founder Alexander Malkevich, who, "having experienced the bullying of American law enforcement officers himself," had "systematically helped" her during her prison term.
Alexander Malkevich (source)
Readers of this blog will remember Malkevich as the former editor of USA Really, a Russian propaganda site allegedly funded by Robert Mueller-indicted catering oligarch, Yevgeny Prigozhin aka "Putin's cook." Both Malkevich and Prigozhin are currently under U.S. sanctions for their alleged involvement in Project Laktha, a massive social media influence operation that allegedly sought to "sow discord" in the American political system in the lead-up to the 2016 presidential election.
At least four of Malkevich's current employees — three of whom he reportedly shares with Prigozhin's infamous troll factory — were recently accused of attempting to meddle in African elections. Malkevich has denied the claims.
In May, Malkevich launched a crowdfunding effort in Russia to help pay Butina's legal bills. In an interview with this blog, he said he intended to pay the money through a third-party in Moscow in order to circumvent financial restrictions placed on him by the U.S. Treasury Department.
"Of course I am not paying [Butina's lawyers] directly because I am under sanctions," he told Shooting the Messenger at the time. "But I am the producer of this crowdfunding."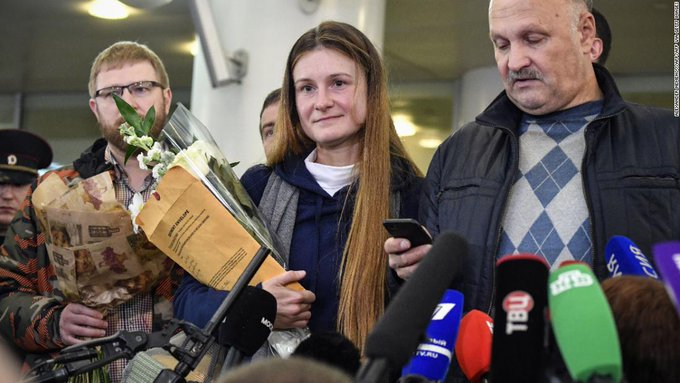 Malkevich with Butina (source)
When Butina returned to Moscow last month, Malkevich met her at the airport with a bouquet of flowers. Following that appearance, I again asked Malkevich about his involvement with Butina. This time he said he'd made an offer for Butina to work for FPNV as its vice president.
"Yes, I offered Maria Butina to become a part of our foundation for national values protection, and I will be happy if she will agree to become a vice president of our fund, of our foundation," Malkevich said in an audio recording. "About her possible acceptance, you know that I heard that she expressed interest in our joint work. But you know that nowadays she is in Barnaul in her native city in Altai region, and I think that for week or maybe for two weeks she has to have a rest among her family, with her father, her mother, with her friends. So we are not in a hurry. We are not in a hurry."
Butina did not reply to multiple requests for comment.
I also asked Malkevich if he was excited to see himself back in the American press.
"I can't say that I was excited to see myself on CNN because a lot of American media wrote about me and are still writing something about me," he said. "Maybe that first time I was a little bit excited when I found myself in New York Times, and really big article with photo about me and so on."
He added that his next project will involve compiling the various definitions western news outlets have used to describe him and his activities. You can learn more about that project via the SoundCloud link below.