— Reporters at Singapore summit thought Donald Trump-produced video was North Korean propaganda
At a press conference today at the Singapore summit, journalists were shown a video, filmed in the style of a movie trailer, about "the opening up of a new future" between US president Donald Trump and North Korean dictator Kim Jong-un, who had met earlier in the day to discuss the disarmament of North Korea's nuclear weapons programme.
The "highly-produced…propaganda video" showed that "the North Korean people [have] faced a lot of hardships over the decades, but under the wonderful leadership of Kim Jong-un they've managed to develop their economy [and] bring themselves to a prideful place in the world community."
At least that's how the video was interpreted by award-winning CBS News correspondent Vladimir Duthiers, who covered the summit live, and CBS News contributor/international affairs analyst Isaac Stone Fish, who briefly joined Duthiers to give his opinion on the historic meeting [unfortunately, the live stream link for the video has now expired].
They weren't alone in their interpretation.
According to AFP White House correspondent Andrew Beatty, there were "lots of 'what the fucks' in the White House press filing center" during the showing of the "propaganda film."
Reporting from Singapore, ABC News correspondent Jonathan Karl called the video "a very slickly produced video" with "overtones of propaganda."
On Twitter, Daily Mail US political editor David Martosko tweeted: "Before Trump comes out, there's a Korean-language video playing that appears to be a propaganda video. Full of glorious pics of Dear Leader and adoring images of North Koreans."
A few minutes later, Guardian columnist Jonathan Freedland tweeted: "As reporters wait for Trump, big screens at the press conference venue appear to be showing a North Korea propaganda video. Heroic images of Kim, smiling crowds etc."
In fact, the video was produced by the White House to show Jong-un what North Korea might look like if it dismantled its nuclear weapons programme.
As Trump himself revealed when he appeared onstage a short while later: "That was a tape we gave to Chairman Kim and his people, his representatives, and it captures a lot, shows what could be done."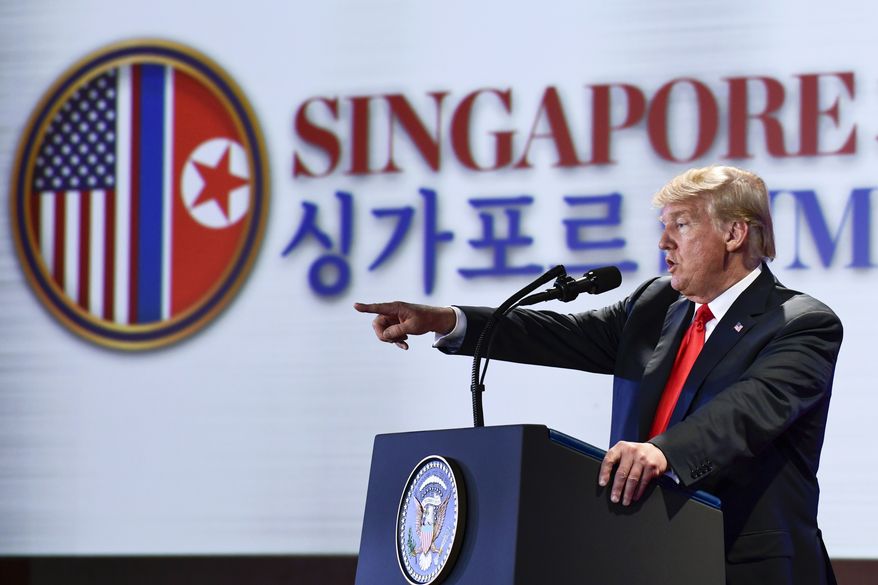 Despite its "striking" similarities to North Korean propaganda—or perhaps because of the similarities—Trump claimed the video was well-received by Jong-un.
I showed it to him today.  Actually, during the meeting — toward the end of the meeting.  And I think he loved it.  They were giving — we didn't have a big screen like you have the luxury of having.  We didn't need it because we had it on a cassette and — an iPad.  And they played it.  And about eight of their representatives were watching it, and I thought they were fascinated.
Asked about the optimistic vision of North Korea's future as depicted in the video, Trump—never one to miss an investment opportunity—told the press:
That was a version of what could happen, what could take place. As an example, they have great beaches. You see that whenever they're exploding their cannons into the ocean, right? I said [to Jong-un], "Boy, look at the view. Wouldn't that make a great condo behind?"