Animal rights group PETA bought PeopleEuthanizingThousandsOfAnimals.Com and PeopleEuthanizingTastyAnimals.Net following criticism of its euthanasia programme
People for the Ethical Treatment of Animals (PETA) is a Norfolk, Virginia-based animal rights nonprofit founded in 1980 by English-born Ingrid Newkirk.
Ingrid Newkirk (source)
In its mission statement, PETA says it aims "to stop animal suffering [using] every available opportunity to reach people with our messages."
Over the past decade, PETA arguably has self-sabotaged its animal rights agenda in pursuing an "uncompromising" media campaign of "shameless" advertisements, "pseudo-scientific" claims, and physical attacks on celebrities and opponents.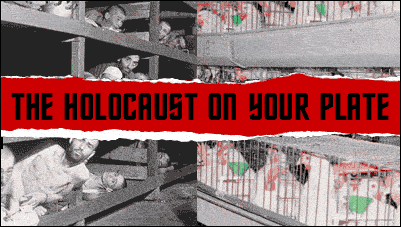 PETA's "Holocaust on your plate" campaign (source)
Now it appears that PETA sought to thwart criticism that it euthanizes up to ninety-seven per cent (in 2006) of animals that enter its Virginia shelter.
In 2012, PETA registered several critical domain names comprising the PETA acronym, including PeopleEuthanizingThousandsofAnimals.Com and PeopleEuthanizingTastyAnimals.Net.
PETA bought the domains following bad press from Center for Consumer Freedom, a Washington D.C.-based nonprofit advocacy group whose website maintains statistics on the number of animals PETA euthanizes annually.
While Newkirk has insisted that euthanizing tens of thousands of animals is "a tragic necessity," critics argue that Newkirk's rationalisations exhibit a "disturbing" pathology.
Via "Ingrid Newkirk's Death Wish" by Douglas Anthony Cooper, Huff Post, April 5, 2012:
PETA's literature…describes euthanasia in terms that can only be considered pornographic: "For (the dog) Pepper, euthanasia was a sweet release from the painful existence that she'd endured for so long."

This is not a new metaphor: orgasm has long been referred to as "le petit mort" — the little death. Rarely do you see the analogy reversed in this manner, however: death of the innocent described as a little orgasm.

The psychology here is thoroughly pathological. No question. It is a sickness of the soul. Particularly disturbing, however, is that the reasoning behind this cult of euthanasia is thoroughly sound.

If your goal in this world is to prevent suffering, then one perfectly rational solution — perhaps the only rational solution — is to end life. Death makes sense. It is the termination of pain.

This is very much the PETA argument: life is suffering; hence death is good.

Ingrid Newkirk demonstrates a chilling consistency here. Yes, she feels the same way about humans — their eradication would be an improvement to the universe: "Humans have grown like a cancer. We're the biggest blight on the face of the earth."

She is no less consistent when she discusses Ingrid Newkirk — her horror of humanity extends to herself: "I am not a morose person, but I would rather not be here. I don't have any reverence for life, only for the entities themselves. I would rather see a blank space where I am. This will sound like fruitcake stuff again but at least I wouldn't be harming anything."
Five years on, PETA continues to fend off criticism, and in some cases has even paid money in defence of its euthanasia programme.
In September, the animal rights group agreed to pay $49,000 to settle a lawsuit brought by Virginia native Wilber Zarate Llaven, whose pet Chihuahua was snatched from the porch of his mobile home and subsequently euthanized by PETA employees.
In the suit, Llaven alleged that PETA euthanizes animals because it "considers pet ownership to be a form of involuntary bondage."
PETA denied the allegations, maintaining the incident in 2014 was a "terrible mistake."
According to WhoIs, which hosts information about domain registrants, PETA recently extended its purchase of PeopleEuthanizingThousandsofAnimals.Com and other similarly named domains. The domains are set to expire in March 2018.