Alexander Malkevich and his website USA Really were sanctioned for "attempted election interference" last year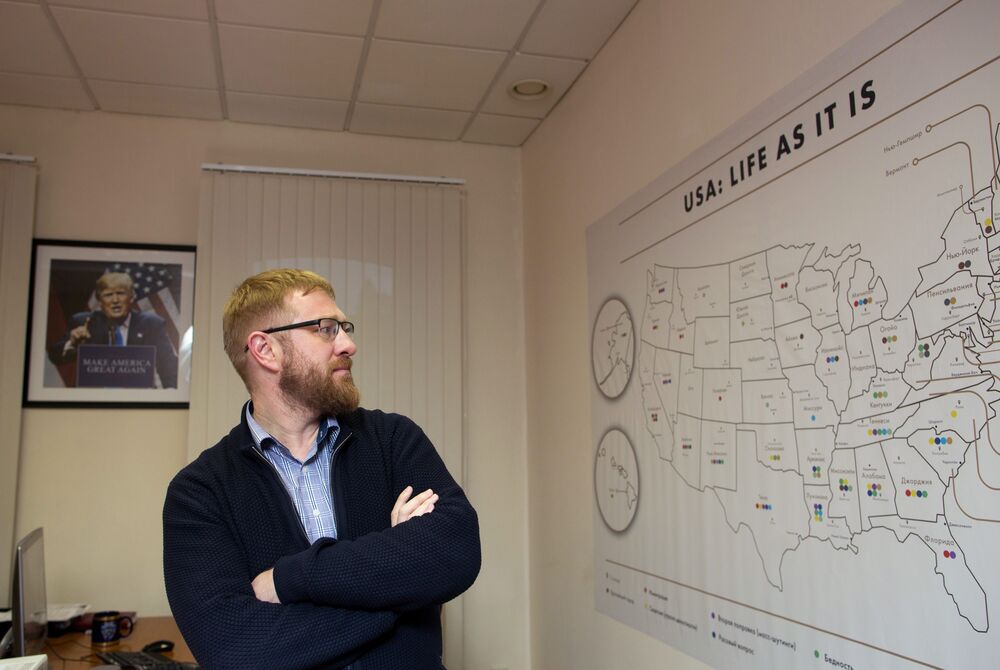 Alexander Malkevich (source)
Alexander Malkevich, founder and Editor-in-Chief of Russian propaganda website USA Really, has quit the project after he and his site were sanctioned by the U.S. Treasury Department in December.
Malkevich, who currently leads Russia's Civic Chamber of Mass Media, from which he advises the Kremlin on media policy, said he left USA Really at the end of last month to focus on his work in Russia, including writing "several books" on U.S. elections.
"I decided to turn into my numerous projects in the field of civil society both in Russia and abroad," Malkevich explained in an e-mail. "I have also plan to write and publish several books about the US elections and about the history of elections in the Russian Federation. This year I also have to finish my doctoral dissertation in the political sciences so I have too much work and I don't have time enough for the USA really.
"I would like to mention that Leo Savin [a Russian political analyst and former editor of pro-Putin think tank Katehon] will be the next face of this media outlet," he added.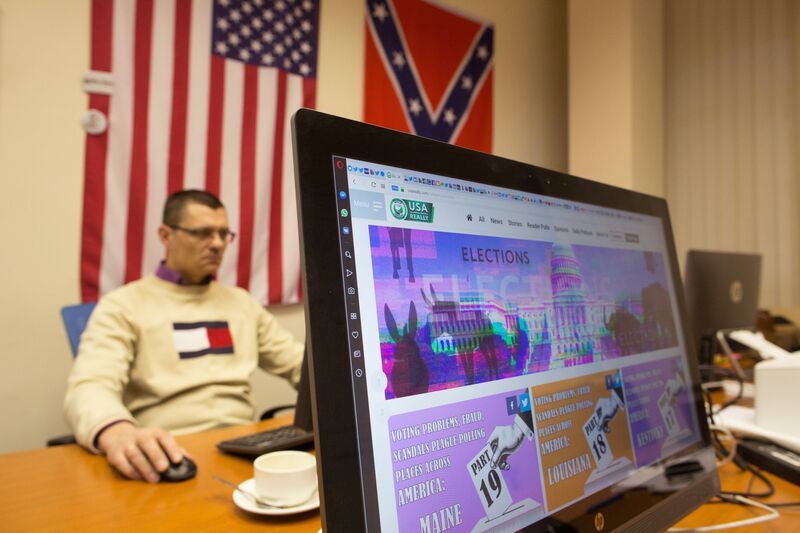 USA Really HQ (source)
Malkevich's exit comes just a few months after U.S. prosecutors accused USA Really's parent company, the Federal News Agency (FAN), of being involved in Project Lakhta, a Kremlin-backed, multi-million dollar social media disinformation campaign allegedly intended to "sow discord in the U.S. political system."
USA Really's alleged role in the campaign included "efforts to post content focused on divisive political issues," according to a statement by the Treasury Department's Office of Foreign Assets Control (OFAC). "In June 2018, USA Really attempted to hold a political rally in the United States, though its efforts were unsuccessful."
In November, Malkevich was briefly detained by the F.B.I. during a trip to the U.S. as "a public observer" of the midterm elections. During that same trip, he gatecrashed an election night party at the National Press Club in Washington, D.C., where he later claimed he was physically accosted by celebrity attorney Michael Avenatti's entourage.
"This never happened and I don't travel with an entourage," Avenatti told Shooting the Messenger. "Putin must be so proud of this nonsense."
Michael Avenatti with Alexander Malkevich (source)
Since December, USA Really has faced a number of setbacks after the Treasury Department prohibited U.S. individuals and businesses from transacting with the site.
In January, the site's security certificate and PayPal account were revoked, restricting its ability to operate and do business within the U.S. Last month, Google followed suit and yanked the site's analytics account, blocking its ability to access reporting data on its readers.
The sanctions also appeared to take their toll on USA Really's American contributors, at least three of whom have since left the site, fearing possible legal repercussions. OFAC guidelines state that "fines for [violating sanctions] can be substantial" and "in many cases, civil and criminal penalties can exceed several million dollars."
Despite those setbacks, Malkevich appeared resolute in comments last month to The Daily Beast, describing the sanctions as a "WITCH HUNT" and insisting that "ALL ANERICANS [sic] CAN WRITE ANYTHING FOR US."
USA Really did not reply to a request for comment regarding Malkevich's exit from the site.
Shooting the Messenger has followed USA Really since April last year, and in June scooped Malkevich's involvement in the site.
Via POTUS Press Pool with Julie Mason, Sirius XM, April 19, 2018:
For those of you who are looking for a job, there's a Russian troll farm that's recruiting English-speaking journalists. Uh, you know, need a few extra bucks? It's called the Federal News Agency, which—Federal News Agency used to be the name of, like, a transcription service here in Washington DC, so when I first saw that I was, like, "wait, what?" Anyway, Federal News Agency, a pro-Russian website linked to the Internet Research Agency, has been recruiting English-speaking journalists to work on its "Wake Up, America!" campaign. This is according to Shooting the Messenger. Here's the ad—I'm going to read aloud from the ad:

"Due to the growing political censorship imposed by the United States, there remains less and less of information sources that are not under control of the U.S. authorities. In this regard, U.S. citizens cannot receive objective and independent information about events occurring on the territory of America and throughout the world."

What!? Come on. "Under control of U.S. authorities"—Russia, come on, be smarter than that. Be smarter than a Russian troll, Russia. Anyway, so they are hiring. If you dream of working for a Russian troll farm, you can check it out.
Via "New Russian Media Venture Wants to Wage 'Information War' in Washington, D.C." by Lachlan Markay, The Daily Beast, June 10, 2018:
A Russian government adviser who aims to wage an "information war" in the U.S. and Europe is running a new media venture a block from the White House that cybersecurity experts say has ties to the country's infamous disinformation apparatus.

In April, Russia's Federal News Agency (FAN) announced the creation of an American outlet called "USA Really." Its website and accompanying social media pages sprang up in May and quickly began promoting a mid-June rally to be held in front of the White House in protest of "growing political censorship… aimed at discrediting the Russian Federation…"

USA Really's "flash mob" protest was initially scheduled for June 14, in what it says was a recognition of Flag Day and President Donald Trump's birthday. But rather than applying for a rally protest with D.C.'s Metropolitan Police Department (MPD), which oversees such events, it asked the city's film and television office for a film permit, the type that movie studios obtain before taping scenes on D.C. streets.

The FAN posted a copy of an email from the film office, which referred USA Really to the MPD. "Your permit application is denied," the email read, "since we've determined that this is a rally more so than a filming…"

MPD told Dean Sterling Jones, [an] investigative writer who's followed the USA Really case for weeks and first reported Malkevich's involvement, that it had received no requests for a rally permit from the group.