The film credits election-meddling Russian oligarch Yevgeny Prigozhin as copyright holder. Yet the film's co-financier, Alexander Malkevich, claims he was "not aware Prigozhin took any part in the creation of the film."
As Libya's U.N.-backed Government of National Accord wrests back control of Tripoli from Khalifa Haftar, the renegade leader of the Libyan National Army, a bizarre new propaganda-feature film is claiming to tell "the harrowing yet true story" of two Russian prisoners said to be at the center of it all.
Via "How Two Russians Got Caught Up in Libya's War, Now an Action Movie" by Andrew Higgins and Declan Walsh, The New York Times, June 18, 2020:
[Maxim Shugalei and Samer Hassan Ali Seifan's] Libyan misadventure began in March last year with what their Russian employer described as a "research project," which quickly landed them in a notorious jail on charges of visa violations and meddling in Libyan politics. [Note: A third Russian, Alexander Prokofiev, accompanied the two men to Libya, but managed to return home unscathed.]

As part of a campaign to get the Russians freed, their employer, a shadowy private Russian foundation [the Foundation for National Values Protection] helped finance a feature-length movie [titled Shugalei] that premiered on Russian state television last month.
The Times' story notes that "Shugalei's trip appeared to be part of a push for influence by a St. Petersburg businessman, Yevgeny Prigozhin," who spearheaded Russia's efforts to interfere in the 2016 U.S. presidential election and has been sending mercenaries from his private militia in Russia, the Wagner Group, to support Haftar in his failed campaign to gain control of Tripoli.
What the story doesn't mention is that the copyright to the film belongs to Aurum LLC, a film company founded by Prigozhin in 2017. There is little information available about Aurum online, and the company's business address leads to a random apartment building in St. Petersburg.
Aurum's involvement appears to contradict statements given to the Times by "Shugalei's employer, [Alexander Malkevich, who] said his foundation had no ties to Mr. Prigozhin."
Malkevich rose to prominence in mid-2018, when he attempted to organize a flash mob at the White House to celebrate the launch of USA Really, a clumsy Russian propaganda site aimed at an American audience. That December, he was sanctioned by the U.S. Treasury Department for "attempted election interference" in connection with Prigozhin's infamous troll farm.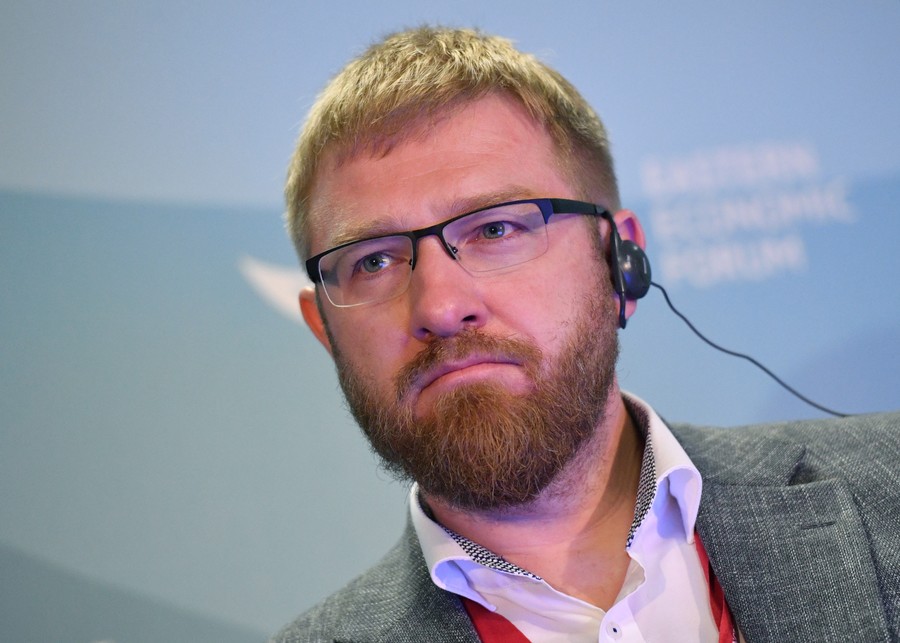 Alexander Malkevich (source)
Last week, I e-mailed Malkevich to ask him about his involvement in the film and whether he'd met with Prigozhin. He told me that despite consulting with the film's writers and director, he was "not aware that Yevgeny Prigozhin took any part in the creation of the film."
I also asked him about allegations by Libyan prosecutors that his employees helped plan the election campaign of Seif al-Islam Gadhafi, the fugitive son of the deposed dictator Muammar Gadhafi, as part of a Kremlin-backed plot that included helping Russia to secure a military base in Libya, as Bloomberg reports.
Here's what he sent me:
I have not seen the official charges. As far as I know, no one at all has seen them. All the charges are still only in words and have not been converted into a legal document 13 months after. All the so-called charges are replicated in the press, appearing primarily in the US, but maybe they know better. In answer to your question, Seifan was hired as a translator on the eve of the trip by the Foundation for National Values Protection. Shugaley was also approved for the project. So they both worked for the Foundation. About Gaddafi: what kind of election campaign could we be talking about if no election was scheduled, there is no Constitution and as a result, no electoral law?! And as you know, one of our sociologists left a few days before the kidnapping of Maxim and Samer who were supposed to leave 2 hours after him. No long-term work of any kind was planned.

GUARD A MILITARY BASE??? The two of us? Does Russia have a military base in Libya? and I want to remind you that Samer is diabetic, and Maxim has suffered a stroke. What kind of security of a military base are you talking about? are they hobbits from Middle-earth? Have the eagles flown Prokofiev out of Libya yet? Let's have a serious conversation. Election campaign without the election, protection of a military base without the military base (!!!) by people with health problems.

We conducted a sociological study, a complete one, not hiding from anyone. It had questionnaires, focus groups and expert interviews. Nothing more was planned or discussed.
*     *     *
The film's storyline corresponds closely with Malkevich's version of events, depicting Shugalei and Seifan as intrepid sociologists who uncover "explosive evidence" that threatens to undermine Libya's "puppet" government, for which they are imprisoned and sadistically tortured.
Throughout it all, the devil-may-care film version of Shugalei, played by 51-year-old Russian character actor Kiril Polukhin (doing his best Bruce Willis impersonation), spouts witty dialogue, drinks whiskey straight from the bottle, and, above all, "[does] not lose a sense of humor despite the challenging times."
Although not the main focus of the film, Haftar plays a key role, mounting a daring but entirely fictional rescue that undermines the film's claim of documentary-level accuracy. Meanwhile, Prigozhin, a central figure of the real story, is never mentioned.
The film is "a very powerful propaganda tool," said Khadeja Ramali, a Libyan disinformation expert. She said that in addition to whitewashing the allegations against Shugalei and Seifan, the film feeds into an already existing narrative that most Libyans preferred living under Gadhafi's dictatorial regime and view the 2011 revolution as a curse.
"The movie pushes a lot of points I've seen online in Arab media — that revolutions lead to chaos, that terrorism and violence follow," Ramali told me. "It tries to paint Tripoli as this place overrun by militias (which it is) but in a way that fits in with [Haftar's] narrative."
It's not the first time Malkevich has sought to manipulate the narrative around Libya's civil conflict to his own advantage. In January, he placed an advertorial on The Washington Post's site — seemingly in violation of U.S. government sanctions — pleading his employees' innocence and calling on Libyan prime minister Fayez al-Sarraj to set them free.
Asked if he feels any guilt over his employees' current situation, Malkevich said he is "certainly concerned for both of our colleagues, Maxim and Samer" but that "it is not my fault" and that "all the blame lies with the so-called Government of National Accord, as well as with Prime Minister Fayez al-Sarraj personally."
al-Sarraj's office did not return a request for comment.
Shugalei is currently available to watch on two separate YouTube channels run by Russian state-funded news network, Russia Today. As of publication, the film has been viewed nearly 700,000 times.